Ideal por más alto lumen aplicaciones , Led Grow Light Bar, la serie FD-75-054B es un 75W, corriente constante , programable exterior DIRIGIÓ controlador que opera desde una entrada de 90 ~ 305 VCA con un excelente factor de potencia.
● Alta eficiencia ( hasta al 89% típ . @ 230VAC)
● Protección integral: OVP, SCP, OTP
● Certificado con IP65, UL, CE
¿Por qué es un controlador de 75 W, porque puede encender una placa cuántica para aumentar la luz, así como 480 W, 720 W para aumentar la barra de luz? Esta serie de controladores de iluminación para horticultura es nuestro diseño principal para ayudar a los fabricantes de luces a crecer en todo el mundo. Las características estándar de estos controladores LED incluyen protecciones contra cortocircuitos, sobrecarga, sobretensión, sobrecorriente y sobrecalentamiento. Bajo costo, alta confiabilidad. Posiciones de los orificios de montaje para sujetar el proveedor de energía compatible de forma segura. Diseño de corriente constante, 5 años de garantía.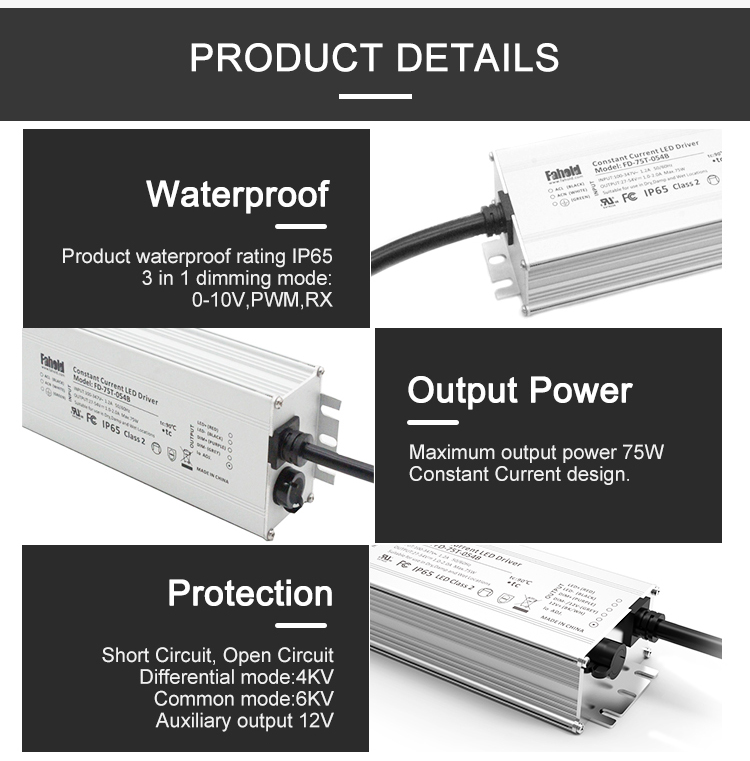 Input characteristics

Input Voltage

100-277Vac

Input Frequency

50/60Hz

Input Current (Typ.)

1A @100-277 Vac , 100% load

No load Voltage

2Wmax

Inrush Current

60Amax. @ 347Vac, 25℃

Power factor(Typ.)

PF>0.95 @ 120Vac, PF>0.90 @ 277Vac,100% load,

THD

THD<20% @ 100-277 Vac, 100% load

Output characteristics

Current accuracy

± 5% I0

No load Voltage

Vout 63V max

Efficiency

≥88% @100 Vac, ≥92% @ 277 Vac

Output Voltage

27-54V ;

Ripple and Noise

1200mVp-p

Line Regulation

3%Io

Load Regulation

3%Io

Turn On Delay Time

Under normal conditions, the maximum delay time is 3second




Potentiometer current output range

The minimum value:3350mA; maximum value: 6700mA; Remark: the total output power does not exceed 320W (actual output voltage * actual output current = power), otherwise, it can not be guaranteed.

Please use the matching programmer to set the output current

Protection functions

Open circuit

When the LED disconnection the product is protected such as hiccup or when it is at the highest point of output voltage, the power supply shall be self-recovery when the fault condition is removed.

Short Circuit

The input power shall decrease when the output rail short, the power supply shall be

self-recovery when the fault condition is removed.

Environmental conditions

Operating Temperature

-40℃ to +60℃

Operating Relative

10% to 90% RH, non-condensing

Storage Temperature

-40℃ to +85℃

Storage Relative Humidity

10% to 90%RH, non-condensing(Sea level to 2,000 m)

Vibration

10 to 500HZ Sweep at constant acceleration of 1.0G (depth: 3.5mm )for 1 Hour for each of the perpendicular axes X, Y, Z.
¿Está buscando un fabricante y proveedor de controladores LED ideal? Tenemos una amplia selección a muy buen precio para ayudarte a ser creativo. Todos los productos están garantizados. Somos un proveedor dorado de LED Driver.Nuestra fábrica está ubicada en el distrito de Bao'an, Shenzhen, China. Si tiene alguna pregunta, no dude en contactarnos.